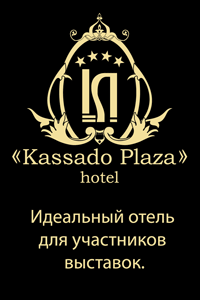 You can minimize costs of business trips and ensure comfortable accommodation for your team. The exhibition organizers offer you a great deal:

accommodation in a room of your choice at a low price in the Kassado Plaza hotel
breakfast included
free transfer to the venue
additional services included in the cost of accommodation: Wi-Fi, fitness room, sauna, plunge pool, parking.
Use the banner on the hotel's website to book a room at a special price.
If you have any problems with the booking, please contact Kassado Plaza.

Contacts

Ekaterina Zueva, Senior Booking Manager
Tel.: + 8 (495) 720-66-06; 8 (499) 946-34-01
E-mail: online@kassado-plaza.com


Svetlana Kuravkina, Senior Sales Manager
Tel.: + 8 (499) 946-34-56;
E-mail: sales@kassado-plaza.com

Website: www.kassado-plaza.com