HUPPA® launches clothes line-up for parents
Now we can definitely state that HUPPA® became a family brand. Quality became the main advantage of the products. The fabrics used for the HUPPA® collections are water-repellent, breathable, and wind-stopping.
The company manufactures two collections per year: winter and spring/autumn. The product design has Scandinavian roots and it stems from Finland where the best Finnish designers are working on the HUPPA® models. The collections are characterized by bright jovial colors and carefully designed details which guarantee a full comfort and safety in use.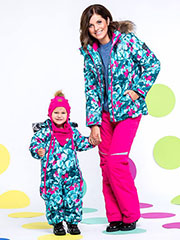 The leading employees of the enterprise have more than 20 years of experience in manufacturing and sales of the clothes for children. The official representative offices of HUPPA® are located in Tallinn, Riga, and Moscow.
The light reflecting details are important characteristics of the products. They make the child visible during the night time and under poor visibility conditions. These characteristics are highly appreciated by the customers at all the markets where the products of the brand are present.