Masha Tsygal created leggings collection for Gamma
Gamma, a factory from Oryol, has designed two new collections of hosiery for children in partnership with the Russian designers supporting the world's collaboration trend.
So, Masha Tsygal became the invited designer for the line-up of leggings for children, a new product for the factory. She has invented not only the prints adapted for production by the factory specialists, but she has also designed the labels.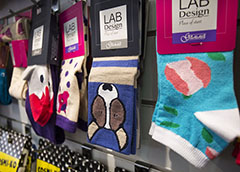 The second collaboration was launched with the participation of Alisa Neoronova and her children's studio Laboratory of Design. Children, established in 2014 on the basis of the Kosygin Academy for Additional Education for Children and Adults RSU. The children participating in the design of hosiery helped create colorful and modern products that kids will happily put on.
Also the collections of licensed products after cartoons Paw Patrol and The Three Cats were presented at CJF – Child and Junior Fashion; the latter collection had already demonstrated good sales.