Chaikovsky Textiles' fabric for school uniforms included in The 100 Best Goods of Russia list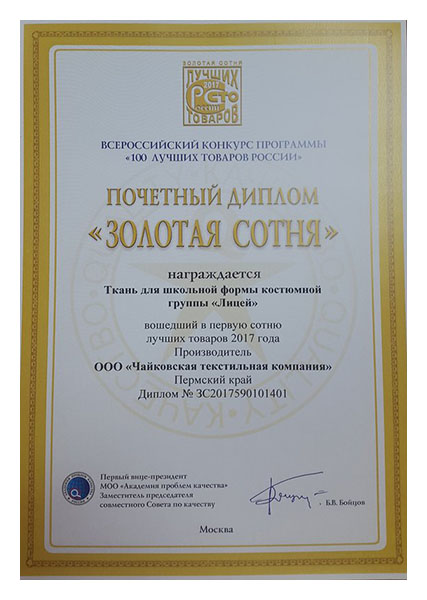 A fabric for school uniforms made by Chaikovsky Textile and branded Liceum has been included in The Golden 100 Best Goods of Russia. The company received this award at the finals of the federal round of the Russian competition "The 100 Best Goods of Russia" in the consumer goods category.
The company has been manufacturing the Liceum polyester-viscose fabric since 2015. This year Chaikovsky Textile has already become a leader in production of this line of fabrics in Russia. Quality has always been a key issue in the fabrics production. The company's products fully correspond to all requirements for the school uniform textile. All necessary certificates and expertise have been received. The competition judges highly appreciated the fabric. It is health friendly, comfortable, and durable. The Liceum fabric successfully passed the regional round of the competition, then after the finals of the federal round it was included in the 100 Best Goods of Russia.
The company's employee Ms. Valentina Balashova received the Badge of Honor in Quality Excellence for professionalism in the school uniform fabric production. She is a finishing operator of the dyeing and finishing production line.