National scale projects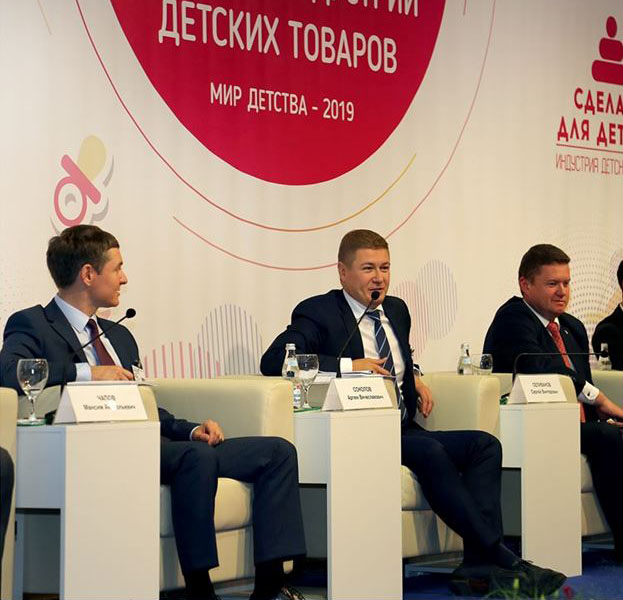 Mir Detstva is a leading networking platform to discuss problems and development paths of the industry. Therefore, it has become a tradition to hold the Congress of the Children's Goods Industry, organised by the Russian Ministry of Industry and Trade with the support of Expocentre.
The plenary session on the National Projects - Drivers for the Development of the Children's Goods Industry was attended by Dmitry Kolobov, Director of the Department for Development of the Industry of Socially Important Goods of the Russian Ministry of Industry and Trade, Maxim Protasov, Head of Russian Quality System ANO, Antonina Tsitsulina, President of the Association of Enterprises of the Children's Goods Industry, Ivan Biryukov, Director of the National Association of AURA-Tech Assistive Technology Market Participants, Oleg Shelyakov, Deputy General Director of Karusel TV Channel, and many others.
Speaking about the trends in the market of goods for children, the representative of the Russian Ministry of Industry and Trade noted the growth of its teenage segment. "In the first half of 2019, the market of children's goods amounted to 388 billion rubles showing a 2% increase compared to the corresponding period last year. According to the results of last year, the share of domestic products reached almost 28%", Dmitry Kolobov stated.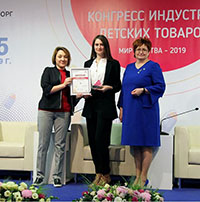 At the Congress round tables were held on the development of international cooperation and export strategies in the children's goods industry, on the introduction of mandatory marking and tracking system for children's goods, as well as on identifying the main problems and obstacles when entering the market of educational technologies of the innovative domestic equipment.
Traditionally, there was held an award ceremony of the top ten companies of the Made for Childhood competition. The competition received more than a hundred applications from the Russian companies from various segments of the children's goods industry.
The best companies of 2019:
Yegoryevsk-shoes (Moscow region, Yegoryevsk);
Labby (St. Petersburg);
Paris Commune Municipal Public Organisation (Moscow);
Interactive Systems (Sverdlovsk region, Ekaterinburg);
Little Lady (St. Petersburg);
Roslavl Toy (Smolensk region, Roslavl);
New Chemistry (Tomsk region, Tomsk);
Bambinezon (Moscow);
BELSI (Moscow);
Russian Toys (Kaliningrad).
In addition, Cotton Club (Moscow region, Balashikha) was awarded in a special nomination 'For Localisation of Production'.