Bytplast expands product range for newborns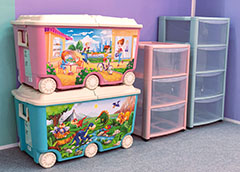 This year, the Bytplast exhibition stand was located in Forum Pavilion and was dedicated to the products for newborn babies. The company showcased a wide range of products of Plastishka® brand: goods for feeding and hygiene, and furniture for children.
Plastishka® line-up of children's plates with decor was of particular interest and got a positive feedback: a baby's cup with slip-proof handles, a bib with decor, and a Teddy bear case for the dummy. The line-up of Plastishka® plates with decor presents seven items for feeding babies grouped by colour and decor. A training feeding cup with a soft nose and a closing cap is the bestseller of this line-up. The feeding cup was acknowledged by the expert society: it was awarded with a gold medal "For Quality" in the competition arranged by Soyuzexpertiza ANO, and it became the best product for kids according to the results of the Golden Bear award.
Bytplast also presented a number of new products for storage of children's things including organisers of various formats and boxes for toys at Mir Detstva. A new Plastishka® toy box is available in two stylish colours: turquoise and warm pink with two versions of decor applied using IML technology: it will not be worn over time. There are safe folding handles on the sides of the toy box, and the six wheels of the box are covered with an elastic material that reduces slipping and noise.