Mickey Mouse and all from Enesco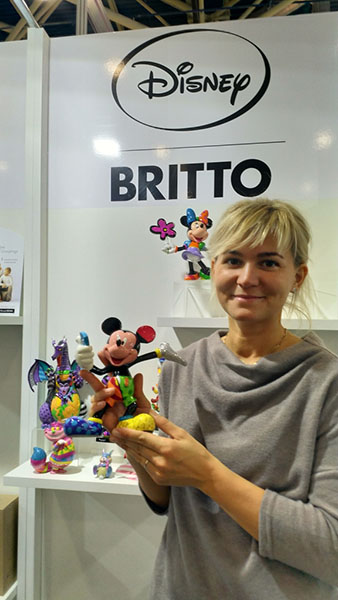 Greatest Gifts has presented the products of Enesco from the USA at the exhibition. Since 1958 (the year of foundation), Enesco has become one of the leaders in the world market of collectible figures and other gift souvenirs.
The company participates in the Mir Detstva exhibition for the first time. Earlier, the company just visited for several years, they decided to take part as an exhibitor after they had evaluated and appreciated the exhibitors who were the main players in the toy and stationary market. "It seemed interesting to us to demonstrate our Enesco products at Mir Detstva," the company representative said, "because, firstly, it has been very poorly represented in Russia, and secondly, the business level of participants and visitors is quite high."
Enesco was created in 1958 by Evgeny Fridman, a former Soviet emigrant. Since 1990, the management of Enesco, in collaboration with artists and sculptors, decided to start manufacturing figures made of resin ("poly stone"), a material solidifying and becoming hard like a stone. The collections of Enesco quite clearly reflect the individuality of each artist, and at the same time, their uniqueness.
The product range of the company presents figurines, glasses, accessories, stationary and writing instruments. This year, the company added bags, cosmetic bags, and scarves to their product range. At the same time, licensed products from Disney are the main product line of their assortment.