Dmitry Skorchelleti: marking is very simple and very serious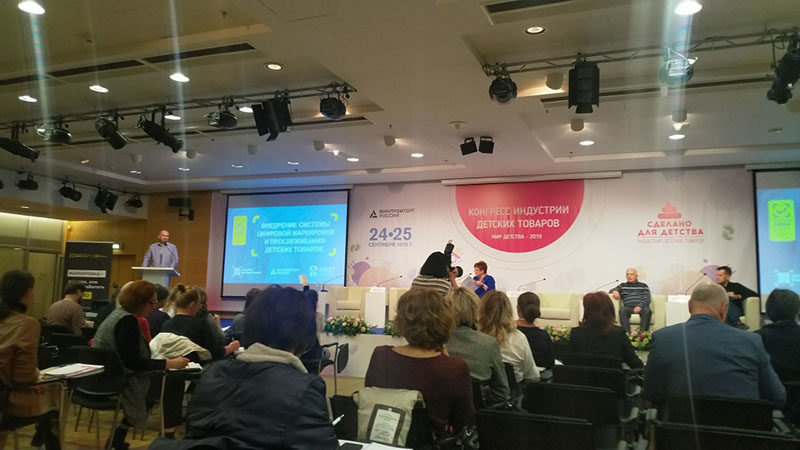 The participants in the exhibition were very interested in Implementation of Digital Marking and Traceability System for Children's Goods, a session organised by the Russian Ministry of Industry and Trade and the Russian Association of the Children's Goods Industry. The main speaker of the event was Dmitry Skorchelleti, the Head of the Centre for Development of Advanced Technologies (CDAT).
The state digital marking system will cover almost all product groups of children's products until 2024, and that is why this topic drew such a response in the professional community. AIDT President Antonina Tsitsulina moderated the session, "At present, our main task is to make this process as smooth as possible so that the business does not suffer. Therefore, we regularly meet key market participants so that they can voice all their doubts and questions."
Igor Tatarenkov, the head of the working group, the project manager of Dochki Synochki, told in detail where to start, "Firstly, you need to find out whether your products are included into the category of the goods subject to marking in the near future. On the CDAT website, all categories subject to mandatory marking are listed, and it indicates there from what time testing and mandatory marking labeling will start. The next step: if your product category is subject to marking, you need to enter and register on the website. You must become a member of this electronic documents circulation."
Dmitry Skorchelleti told in detail about the need to introduce the marking system and emphasised that for an honest manufacturer the procedure would not be complicated and costly. The speaker promised that all changes important for the industry would be published on the AIDT website. He tried to convince that "marking is easy",
"The world is becoming digital, and that will allow realizing the task of creating a national marking system on a digital basis. The main coordinator of the program is the Russian Ministry of Industry and Trade. CDAT is the single operator; the founder is both private capital and the state. The business will receive a transparent supply chain, a system cleared of counterfeit products. The state will get a transparent map of the movement of products around the country and adequate statistics. Finally, the consumers will be able to trust every product purchased anywhere in the country."
Mustafa Kurmaleev, The Head of Detsky Mir Technology Development Department, shared their experience in marking the children's footwear. Zakhar Nazarenko, Megalicence CEO, voiced a request to enter additional data with information about the brand owner in the marking code. Such data will protect honest manufacturers of licensed products and will help exclude counterfeit goods from the products turnover.