Elena Gordeeva: our debut at the exhibition demonstrated creative atmosphere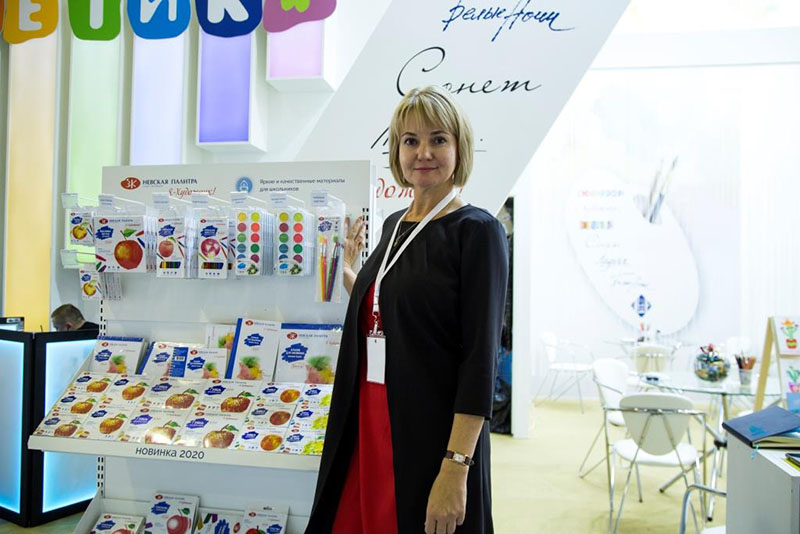 Nevskaya Palitra Artistic Paints Plant presented its brands at the Mir Detstva exhibition for the first time. There was a vivid and creative atmosphere inherent to refined St Petersburg companies over four days at the Nevskaya Palitra stand. Elena Gordeeva, Nevskaya Palitra Commercial Director, spoke about the advantages of her products and the reasons that led the company to enter the market of children's goods.
Artistic paints plant Nevskaya Palitra has been producing a wide range of high quality products for professional artists and amateurs for 80 years. We have more than 10,000 product items in our assortment portfolio, although at Mir Detstva we focused on presenting two line-ups for children Tsvetik and I Am an Artist!: our new series of paints and products for creativity.
The decision to expand the assortment range by developing products for children was not made by chance. We understand that we have a product matrix that is suitable for children from 3 to 7. Further, it was necessary to think over the products for older children in order to support them on their creativity path from early childhood to adulthood. We conducted a global study of the children's market, and the results of this focus group demonstrated that the teenage audience needed such products. It was the teenagers who suggested the name for the new brand "I am an artist!". This is a joint product of which we are very proud. This line-up will fit well our product range.
All our products are absolutely safe; they can be easily washed off, in accordance with all the requirements applied to the products for children. We took into account all wishes of children and parents who wanted to make painting easy and pleasant, to make packaging convenient and easy to open so that the paint can be easily washed off from clothes and from any surface. Since we are professionals in manufacturing of paints and we make pigments ourselves, it was not difficult for us to develop the formulas of paints for children. Today, we produce paints, creativity kits, brushes, sketchbooks, and play dough under Tsvetik and I Am an Artist! brands.
We have not yet started selling the new brands anywhere; we just presented them at the exhibition and we got a very positive response, even some excitement. Therefore, now we decide how to distribute them. Our task is to give our partners the kind of product assortment that will give them advantages against their competitors, primarily the retail chains. It is no secret that the children's market is quite competitive, the same brands are represented almost everywhere. Many of our partners are facing the problem of how to differentiate their assortment, how to stand out. We want to help them by proposing a product, due to which they will get advantages over their competitors.
We approached our debut participation in Mir Detstva creatively: every day we were having several workshops on different techniques at once; we talked about new trends in painting, and we taught the secrets of various techniques. We told how to create an unusual colorful panel with acrylic and gouache paints in 40 minutes. This helped attract a fairly large number of visitors. Such a creative atmosphere did not interfere, but rather stimulated high business activity at our stand; the partners were willing to join the creative process, they were glad to make their own small masterpieces.
In general, Mir Detstva left a very pleasant impression on us, and I hope the strong business ties that have arisen during our work at the exhibition will support it.