Irina Kuznetsova: children's health is the main target for me as a mother and a manufacturer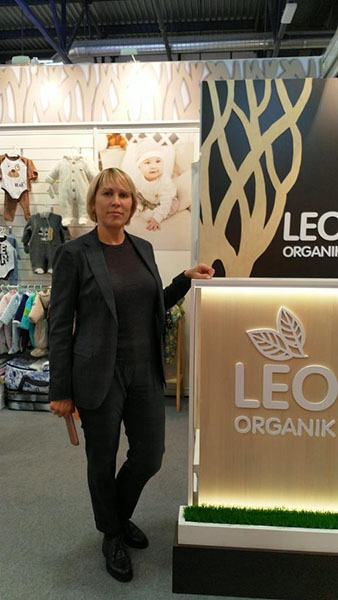 LEO, a company specialising in manufacturing and distribution of clothes for children, this year has surprised visitors by introducing baby strollers of their own production at two exhibitions: CJF – Child and Junior Fashion and Mir Detstva. Irina Kuznetsova, LEO founder and CEO spoke about an unexpected turn in the life of this company from Smolensk and about their immediate plans for the near future.
We are pleased that our new products – strollers have made a good impression on professionals in the market of goods for newborn babies. For more than 16 years, our factory has been manufacturing knitted and textile products and outerwear for children from 0 to 3. We have always specialised in manufacturing of quality clothing for babies. As a mother of five children, I pay close attention to the quality and functionality of the products for children. The decision to start our own production of strollers, which would meet all requirements of our Russian mothers for convenience and reliability, turned out to be the right one. We receive a lot of feedback and thanks, because today we are the only manufacturer of baby prams and strollers in Russia.
What are the advantages of your strollers?
Of course, it was not easy for us to enter this market: in the middle price segment, we mainly have Polish and Chinese manufacturers. We understood that a stroller is rather an expensive purchase; however, if it is reliable enough, it can live a long life and serve more than one child. One of our advantages, which we were able to offer our customers, was a 2-year warranty. Our strollers are made of Russian aluminum; we make replaceable covers, as well as envelopes matching the colors of the strollers. All the details are removable; inside we use only cotton fabrics. The price of the basic stroller starts from 10 thousand rubles, the price for "3 in 1"stroller is within 30 thousand rubles. Our main goal is to change the customers' mind proving that Russian products can also be of high quality.
How do you plan to develop this product segment in the future? What are the main problems you see?
Understanding that the market for strollers has almost completely switched to online sales, today we are changing our policy, our working principle is a direct delivery from the manufacturer to the end consumer bypassing resellers. Now we are optimising our logistics services. One of our latest projects is the Stroller Kit: parents on our website can assemble the stroller themselves, choosing the size, the material of the frame (steel or aluminum), the wheels, and the color. For northern regions, we offer a wider cradle, so you can put the baby in a thick fur envelope.
Many problems would have been solved, if a manufacturer of spare parts for strollers and bicycles appeared in Russia. I believe that we, manufacturers, need to consolidate.
What other items are in your product range?
At the exhibition, we presented a line-up of clothes for prematurely born lightweight babies. Today, there are no state standards that could regulate these clothes in our country. We have made a lot of work in this area; we talked with pediatricians, neonatologists, and mothers. We collected all the information so that little children with a height of 38 cm were not dressed in just a diaper, but in comfortable, safe crawlers.
Leo Organic product line-up, which we also present – underwear, pillows, and diapers for children of up to 6 months of age – is one of our important product groups. We are completely switching our manufacturing towards organic products, now we are at the stage of certification of production. We will meet all international requirements in terms of production of organic clothing. This issue is extremely important to us. Being a mother and a consumer, I see that children often become allergic not only because of poor-quality food, but also because of the use of clothing made from fabrics with an undesirable composition. Therefore, we are very attentive making products for this category of babies: all seams are only outward; prints are made only on water-based paints, and accessories are nickel-free. For us, the children's health comes first. The issue of improving the nation's health today is very important. Recently, we have signed a contract with Detsky Mir for our organic clothing line, and, believe me, this is real organics, not just a marketing ploy!