Oleg Mitin: our products are for modern and dynamic parents who value quality and comfort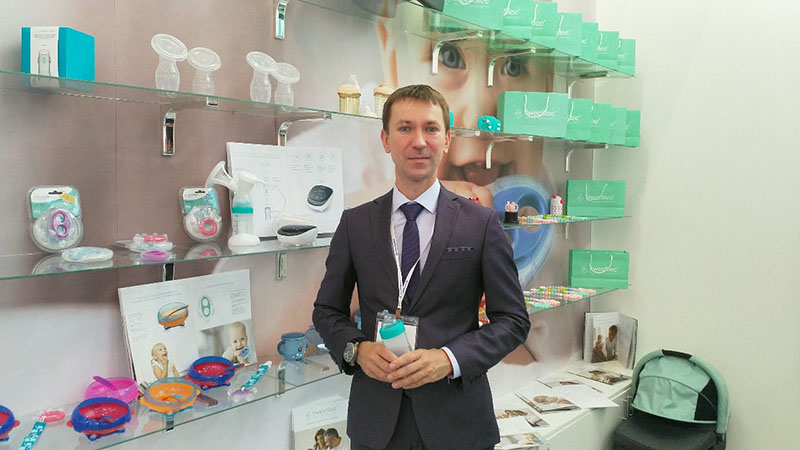 SweeSlee® has demonstrated a number of new products this year. Today, parents from all over our country as well as specialists in newborn care, pediatricians, and breastfeeding experts appreciated the uniqueness of SweeSlee®. Oleg Mitin, the founder of the brand and the head of the company, spoke about the features of his products and shared plans for the coming season.
We have deeply entered the market for baby products, and we are going to settle here for a long time. We are known as manufacturers of unique bottles with disposable containers. There are no analogues to our bottles not only in Russia, but also internationally. Since 2014, we have come a long way and mothers, pediatricians, and breastfeeding consultants appreciated our work. As often happens in our children's goods industry, our children were the first to test new bottles, and my daughter really liked our products! Just realising that our product has been appreciated and recognised for its functionality and convenience, we began to think about expanding the product range.
At the exhibition, the customers unfamiliar with us asked why we had chosen such a name. Everything is very simple. SweeSlee is a wordplay sounding like a child's babbling from the English phrase "sweet sleep". Next year we are planning to enter the international market, any large brand should be easily perceived by the international audience.
This year we updated the design of our products and significantly expanded the line-up in accordance with the wishes of our partners. In the category of breast pumps, both electronic and manual, we combined our bottle with a breast milk storage system, with the containers that are in the bottle itself. Our pacifiers have been updated; pediatricians' recommendations helped us, now these are completely silicone products, very soft, with no connecting parts, no plastic. It is convenient to wash and sterilise such pacifiers; unlike plastic, silicone is safer and more inert to external factors.
We made a special design for teethers: we designed teethers for different stages of tooth emergence: for the front teeth (cutting teeth), for the middle teeth, and we made a special contoured surface for teething the back teeth. Our own product managers have prepared the design and construction in full.
We have also introduced children's safe plates made of silicone and plastic. The plate has different slopes: for dry products and for soups. In the same category, there are devices for the smallest children: a completely silicone spoon, it can be nibbled, it will not scrabble the gums.
Upon completing the baby feeding line-up, we decided that it was necessary to introduce a large size product category, so we designed modern multifunctional strollers. We work out every detail; we sew all the textiles in Russia. We presented three types of strollers at the Exhibition: a light stroller, a classic stroller, and a 3 in 1 stroller with a car seat. We have also presented a highchair for feeding with several height adjustment positions, which can easily be turned into a cradle for the baby to sleep. Another product in this category that we are going to will develop is a crib: we intentionally made it as lightweight and portable as possible, taking into account the requirements of modern and dynamic parents who often have to move.
We have received very good reviews from our partners at the Exhibition, and this once again supported our desire to continue developing the newborns product category. The birth rate falling is certainly a significant factor, but it is not forever! We are neither afraid of this factor, nor of experienced competitors. The stronger the competition in the market is, the more selective the end consumers become; and mothers become more attentive to the choice of not only large and expensive items, like strollers and cribs, - but also of bottles and teethers. Our products are premium, although for Europe we are in the middle price category. In our country, there is either a mass market, produced mainly in East Asia, or premium products where European brands are the leaders. Our products stand out quite favorably on this background distinguished with fine design, quality, and price.