CJF. Children's Catwalk: business and party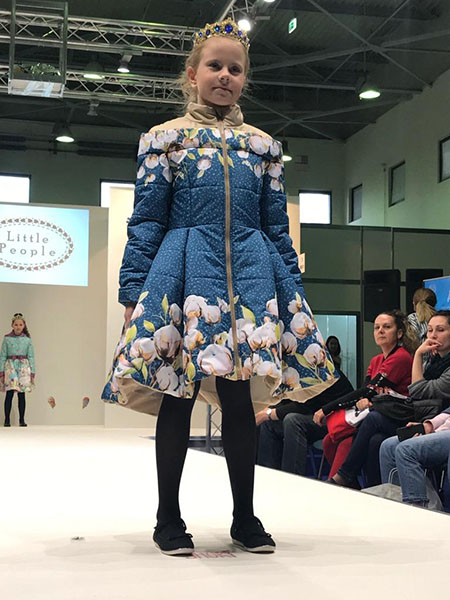 The fashion shows of leading manufacturers and suppliers at the Children's Catwalk traditionally became the culmination of the children's fashion festival in the framework of the CJF – Child and Junior Fashion 2019. Autumn. Such brands as Batik®, Little Lady®, Fantazeri Kids®, Bridal Fashion®, Huppa®, Little People®, Petit Alo®, and Rita Romani® showcased their products.
Little People®, owned by Golden Goose, a famous Russian manufacturer, presented a unique collection of designer coats for girls distinguished by original prints inspired by fairy tales made in watercolor technique in both bright and delicate color combinations.
A real holiday atmosphere was brought to the show by the displays of party suits from Batik: princesses, Snow White, and superheroes entered the podium - and that is just a small part of a wide product range of the manufacturer which includes hundreds of models.
Rita Romani® presented a cozy and warm collection of home clothes for children. The brand is registered in Italy, and it operates manufacturing facilities in Bulgaria, Turkey, and Russia. The products of the brand are distinguished primarily with their exclusive design of cloth and prints.
On the eve of the winter season, a collection of outerwear by HUPPA®, a Finnish brand, was especially relevant. The company uses only modern materials and innovative technologies in their production; the company also pays a great attention to children's safety: each HUPPA® product has light-reflecting elements which reduce the risk to be run over by a car in the dark.
Petit Alo®, a young Spanish brand, debuted at the CJF just last year, is already attracting attention of the visitors; the company presented a trendy collection of casual kids wear. Many of the visitors and exhibitors were interested in the modern design, cheerful spirit, and a wide size grid for children from birth to 16 presented by Petit Àlo®.
Little Lady, a company from St. Petersburg is a regular participant in the Children's Catwalk. The brand has prepared Magic Shine: a collection of elegant clothes for girls for Winter 2019/20. The brand suggests returning to the era of palaces and balls: iridescent velvet, jacquard fabrics, designer flowers, and finest lacework. Luxurious fittings, satin ribbons, and flower bouquets complement the rich fabrics.
Fantazeri Kids® also participates in the Catwalk shows not the first time; this company also represents the Northern capital. This season, the manufacturer introduced a stylish collection of school uniforms for girls: skirts, trousers, blouses, dresses, and tunics.
Bridal Fashion® demonstrated a new collection of exclusive children's dresses for 2020. Designer dresses are following the latest fashion trends and are made with impeccable quality of the best modern materials.
PROfashion Media Agency, TOP Secret Kids Model Agency (directed by Daria Chernysh), Art Stylist International Training Center, and PROfashion Magazine, the general media partner, were the traditional partners of CJF. Children's Catwalk.