Andrey Bakhmetyev, Znatok®: to reduce the gap between school and life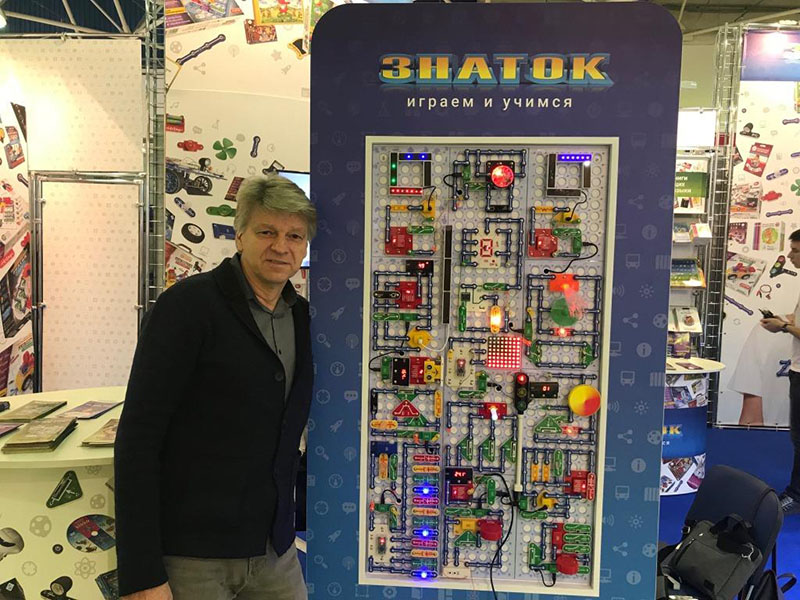 There is a boom in engineering and construction kits for children in Russia and all around the world. The process of assembling the parts of toys with your own hands is useful for the self-development of children, and at the same time, it can have a learning component. The co-owner of Znatok® brand and the chief designer of its construction and engineering kits, Andrey Bakhmetyev, known as the TV-host of the Crazy Hands section in the TV show "While Everyone is Home," knows how to teach children through play, and how to captivate them with science.
Andrey, what are the new products that you have brought to the Mir Detstva exhibition?
I am now in the process of new inventions; some of them we are demonstrating at the exhibition. For example, toy cars based on microcontrollers, thanks to which the child will be able to learn about mechanics. This is a rare kind of robotic cars with front turning wheels, that is, they look like real ones. Usually, a tractor system is used: one engine slows down, the other one rotates, and the car, like a tractor, spins around. However, we are trying to bring toys as close as possible to real cars based on our elements from the Znatok® electronic engineering kit.
One of the goals of our company is to reduce the gap between the school curriculum and real life. In my opinion, one of the reasons why children are not interested in learning is just this crazy gap. A child sees something in real life, but then he comes to school, and he is just introduced to the history of technology, the history of physics, but the school curriculum never explains him how things really work. Every day children hear about the Tesla electric vehicles, that this is the future and it is good, but there is nothing about it in the textbooks, the textbooks are still telling about the incandescent lamp. If the children do not see any connection with reality, they are not interested. Therefore, the concept of our company is based on three steps: it is impossible to teach, but you can learn; the desire to learn comes when it is interesting; but it raises interest in you when you understand how it works, and when you understand why you need it.
Are any schools interested in your inventions?
Yes, there is a huge number of enthusiasts and courageous headmasters choosing these toys contrary to any curricula. A lot is introduced to the supplementary education programmes. We now see a great interest in our products: even at this exhibition, people from the field of education came up and offered joint projects based on our engineering and construction kits with their methodological component. However, I will tell you a secret: we also have methodological developments; we just do not demonstrate them yet.
Do you work with foreign markets?
We have prepared translations into French, Spanish, English, German, and Japanese for our products for the coming Hong Kong exhibition, where we will take part in January.
You also received an award at the Hong Kong exhibition, is it true?
Yes, we received an award for one of our electronic engineering kits in a festive atmosphere, there was a press conference held attended by the world media. I spoke with reporters from the USA and Japan. In order not to look like a superhero, I would like to note that without our collective work and without Zhang Tianguo, who is my, I emphasise, friend and partner, my "wish list" and my fantasies would never have come into real life. Because the products are still produced at a factory in China that I regularly visit. Moreover, I work a lot with Chinese technologists and engineers, besides ours. I must say that the Chinese put my ideas into life much faster than my compatriots do.
Do you see any prospects for your manufacturing in Russia?
You see, we are already late with this, because at least 75% of the world's toys are made in only one province of China. Moreover, everything is very convenient there. Once I was sitting in my office, and I said, "Wouldn't it be nice to make these wheels like that?" The technologist answered, "Wait a minute." Then he left for another room and came back with the bags full of various wheels. I said, "Wouldn't it be nice to put a big headlight here?" And I found a picture on the Internet. "Wait a minute!" he said, and he came up to another closet, delved there, and found one thing, and asked, "This?" I said, "Almost like that, but ..." I made up all the drawings of the headlight I wanted to have. And what do you think? He went to the local radio market in the evening, and already in the morning, we had the item that I had pictured. He found it, we instantly remade the 3D model, added it on with details, printed it out on a 3D printer. Moreover, today you can see it at the exhibition.
The Chinese also have completely different time standards. In the sphere where I work, the project is considered not quite successful if more than 3 months pass from an idea to a pre-production prototype. In Russia, we will only be exchanging letters for approval for three months. But! Some day or other, we will also learn to work this way, and the gap between school and life will disappear!