Lyudmila Rukina: proprietary technologies of Airis-Press have brought up several generations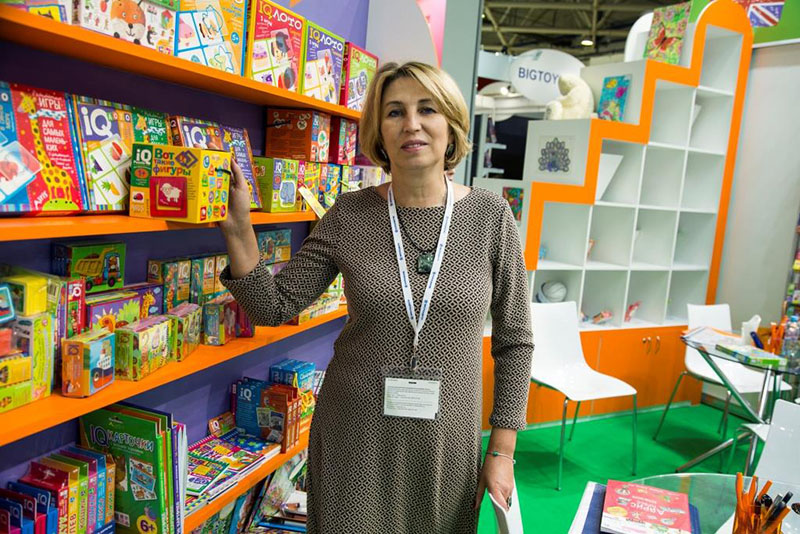 Airis-Press produces educational games for children from a very young age, manuals for schoolchildren, and books to help teachers and parents. This publishing house is a regular participant in the Mir Detstva exhibition. Lyudmila Rukina, Airis-Press Director, spoke about the news of the publishing house and the results of the exhibition.
For more than 20 years, our publishing house has been working according to the latest proprietary teaching technologies in reading, writing, counting, foreign languages, and in all that is important for children to know and be able to do. During this time, we have made about 3,000 publications of more than 50 million printed copies. We can say that several generations have grown up studying our products.
This year we have brought many new products for children of the youngest age from 0 to 3. We have timely responded to this urgent request from the parents' community. Tabletop games based on puzzles, which allow children to develop from a very young age, were in great demand among visitors to our stand. The plastic lotto for the smallest children with cards, using them they can study the concepts of symmetry, asymmetry, and develop their logical skills was also attracting the visitors' attention. In the same line-up of educational games for the smallest children, there are cubes with logical tasks packed in various sets from 4 to 16 pieces.
Of course, manuals and materials for preparing for school represent the widest category of our products. Our customers really appreciated the reusable handwriting manuals made in the form of notebooks completed with a felt-tip pen. A special coating of the pages allows you to write, and then wash the text off, and complete tasks again, for at least 1,000 times! These reusable handwriting manuals will help children prepare their hands for writing, remember the written letters, and learn how to write them in words. The children will begin with simple tasks, writing up elements of letters; they will gradually learn to write the complete letters, they will be able to find them in words, and write from memory or from dictation.
Airis-Press Publishing House works with professional methodologists and editors, who come up with ideas for manuals, test them in our partner kindergartens, and only after that approve them to production. We cooperate with the Good Hands Children's Neuropsychological Centre, with supplementary education centres in Moscow, and with the Moscow Institute for Advanced Studies of Educators. We also actively cooperate with regional centres of preschool education.
In terms of sales of our products, we work with various partners from all over Russia: bookstores, stationery stores, and specialised children's stores, and large federal retail chains. That is why we participate in Mir Detstva every year: all our partners come here. An active work was done at our stand during all the days of the exhibition; many customers came from the regions. I am glad that our colleagues began to study the market of developing children's products in a more profound way, and now they send us requests from their side.
The feedback is important not only with partners, but also with the end consumers, since they set the vector for our strategic development. We are actively cooperating with the communities of mothers in the social media; we post tasks from our new manuals so that the mothers can work out independently with their children and provide the review from their side. These reviews help us adjust and complement our manuals and games.