Kotofey® Introduced Winter 20/21 Collection to the Partners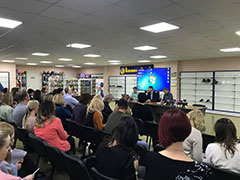 In February, a meeting with the owners of the brand stores of the company, representative offices of the company, and distributors of Kotofey® products was held in the territory of the shoe factory of Yegoryevsk-Obuv JSC.
The presentations were made by Sergei Sorokin, JSC Yegoryevsk-Obuv General Director, and Andrei Kapusta, Marketing Director. They talked about the business situation in the light industry of the Russian Federation; topical issues of shoe marking were discussed. In addition, there was given a summary of the results of 2019, and there were outlined the development paths for the upcoming season. The guests asked a lot of questions. The Winter 20/21 collection was presented.
Kotofey® takes care of their customers: the Company produces shoes for children that meet the highest comfort requirements.
Kotofey® is the largest full-cycle production facility of children's footwear in Russia. The entire production cycle – from unloading of the raw materials up to the packaging of finished products is strictly controlled by the technologists and the quality control department of the Company. To date, the Company has a high-performance equipment and technologies of the leading companies from Germany, Italy, Spain, Turkey, and several countries of South-East Asia.