Bloggers and Brands on Guard of Quality and Beauty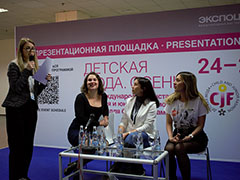 For the first time in the framework of the Exhibition, the CJF Blogger Day Forum was held, along with an interactive battle "The team of bloggers against the team of marketing experts", which aroused great interest among the visitors of the Exhibition.
The Forum program was organized by OLYMPX digital agency and EXPOCENTRE AO. Anna Kilimnichenko, the founder of OLYMPX Advertising Agency, specializing in the promotion of children's brands, spoke about the main trends of promotion in Instagram 2020. Tatiana Tumanova, Marketing Director of LOLOCLO brand shared her real experience of promoting her brand in the blogosphere. Liya Oleinik and Mira Larina, the founders of one of the largest Instagram brands MishaCombearZon, talked about the role of quality content in the brand promotion and entering the market.
The battle between bloggers and brand managers brought a lot of emotions. Of course, the contest was a joke, but it clearly showed what brands expected from working with bloggers, and how bloggers themselves felt about promoting brands in their channels.
We asked Anna Kilimnichenko, the organizer of the Forum, to share her impressions and results of the last event.
– We did not even expect that promotion in social media and the blogosphere would cause such a resonance among owners and marketers of children's clothing brands. The section on community formation raised many questions, because at present brand promotion is not limited to just creating a group in VKontakte or an account in Instagram.
These are now full-fledged ecosystems where people are united by common values and interests. In the realities of 2020-2021 it will no longer be possible just to place photo/video content for large coverage or sales.
Presentations of the Forum speakers showed that all marketing activities have become personalized, with social media in the first place. A well tuned work with various audiences, introducing settings by gender, age, marital status, and interests allow you to precisely select your target audience and engage it in the life of the brand.
Even more resonant was the discussion of step-by-step work with bloggers and influence agents. Audience questions in this section show that the process of selecting a blogger and analyzing his target audience, statistics, account quality, and work development is very complicated for a small brand or company, and not everyone understands how to work effectively with bloggers.
The session dedicated to E-commerce touched upon such important issues as setting up of social media showcases, peculiarities of using shopping tags, "embedded shopping" module, and difficulties that could arise in these settings.
The final section of "Bloggers vs Brands" at the CJF Blogger Day, to my surprise, raised more profound questions than just working in a brand and blogger tandem. We talked about quality and certification of children's goods. Our bloggers have fully supported the brands. After all, in children's fashion the priorities are always given to the quality. And to the beauty!