Alexey Kozlov: Glad That Our Manufacturers Do Not Give Up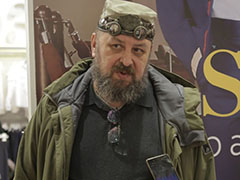 What makes the success of any exhibition? The success comes from how interesting the exhibitors are and how active the visitors, who found time in their busy schedule to come to the exhibition, are. What interesting things professionals saw this spring, what they expect from the upcoming season – here's what Alexei Kozlov said, the Representative of Scanndi-store retail chain:
– We visit the Exhibition every year, it is necessary to feel the mood of the market, to get acquainted with new products. We buy brands that are well-promoted, that are well-known to everyone, and we specialize in Scandinavian clothing. We came to CJF- Child and Junior Fashion Exhibition in search of original high-quality Russian brands. We saw a lot of interesting things, I am glad that manufacturers do not give up. They invent and develop original collections.
But, unfortunately, the purchasing power is falling, and we feel it more strongly in retail year after year. Large international retail chains that feel confident in our market can afford dumping, unlike us. At the moment, many entrepreneurs are in a real chancery: on the one hand, we are strongly pressed by rent prices, on the other hand there are taxes, plus seasonal factors, a decline in purchasing power – people simply do not have money to buy quality products. So you get a situation when you take a loan, order a collection, buy goods for tens of millions of rubles, and the goods are not demanded, because the price is very high for the mass buyer. How much are you ready to spend on a teenager's spring outfit? Fifty thousand rubles? Thirty? Ten? Only one pair of branded sneakers will cost 10-15 thousand, not to mention a jacket or branded jeans. So the buyers go to a cheaper segment. We will also refocus from premium to cheaper segments. What can we expect? Foreigners will gradually leave our market. We hope that our manufacturers will be able to fill this niche.