Elena Pismenskaya: the Season Promises to Be Very Hot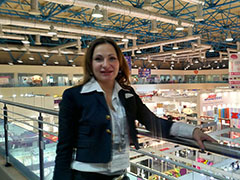 How will the market of fashionable children's clothing develop this year? How to survive a period of stagnation? We talked about this with the permanent expert of the CJF Exhibition, Elena Pismenskaya, Kids Fashion Retail Consulting Agency General Director.
– Elena, your season has started very actively. What is happening in the world of children's fashion?
– In fact, the beginning of the year was quite active. I was at Pitti Bimbo, which is a real fashion festival. Italians know how to create an absolutely festive and at the same time creative atmosphere. It was nice to see that high-style fashion still exists, because at other exhibitions we forget about it for various economic reasons for the sake of commerce. This was followed by Kids Time Exhibition in Poland, which attracts more and more participants every year. It is pleasant to note that our manufacturers from Kirov, Perm and Rostov regions were presented there. And there was another children's clothing exhibition in Turkey, the organizers of which are very much interested in cooperation with Russian partners. These trips allowed me to obtain a more objective assessment of our domestic market of children's fashion.
Our market as a whole has demonstrated a weak dynamics over the past five years. Moreover, it is obvious that the stagnation is intensifying, and the risks are increasing. However, the business is alive in spite of everything. Under these circumstances, you need to be more thoughtful about your goods, the costs that you bear, and the sales outlets that you open. The modern middle price segment has been significantly transformed, and there are many regional players who approach the promotion of their brands with prudence and patience.
– What should we expect in summer and autumn of 2020?
– We certainly expect an increase in online sales volumes. This is good in terms of growth opportunities for small companies, startups, which can instantly expand the geography of sales. From this point of view, the experience of Wildberries is interesting: they find interesting no-name clothing brands and actively sell them. At the same time, they have opened the first few pick-up points in Poland, and they are planning to open another 100 by the end of the year.
Despite the difficult period, I see our brands that work very carefully on their product, analyze what is happening in online trading, what requests come from the audience, and as a result, they are constantly growing in sales, they have profit, they experience growth.
– What is your impression of this spring CJF- Child and Junior Fashion Exhibition?
– At this CJF Exhibition I held several speeches dedicated to the analytics of consumer trends as well as modern opportunities for small brands development. I wanted to show that today the market had changed a lot, in fact we could see it at the stands of the exhibitors. This spring we saw new exhibitors presenting fabrics, accessories, sewing equipment; this is exactly what our manufacturers need. In any case, import substitution makes the manufacturers actively look around and look for partners not in far away countries, but in neighboring areas. All our manufacturers now have one problem – what to produce from? And the fact that the MIRtex Company occupied the central place at the Exhibition is also an indicator of market restructuring.