The Crisis Has Opened up New Opportunities for the DNK Brand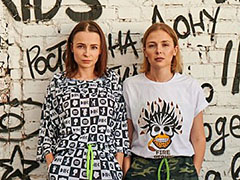 DNK is an eco-friendly brand of designer clothes born in Rostov-on-Don only a few years ago. It has already managed to win the recognition of fashion fans. Moreover, during the difficult period of home isolation, the company has managed to increase its production capacity, save jobs, and launch new collections.
Sisters Anna Alekseeva and Olga Kovalenko, who created DNK's extraordinary clothing line, believe that their faith in the brand's success and their customers' support helped them to cope with the crisis:
– The time of self-isolation turned out to be difficult for everyone. But the @dnk.russia team views these difficulties as a challenge. We try to open up new opportunities under all business conditions and we make the most of them.
The colorful limited collections helped us withstand this difficult period. In spring we promptly launched a collection of stylish fabric masks. Comfortable and original masks have become an essential accessory for spring and summer 2020.
DNK donated over 2,000 masks to the Volunteer Center of Rostov-on-Don.
This year, our company celebrated the fifth anniversary of the brand's foundation. In honor of this event we have produced for the second time the legendary collection of DNK history: our collaboration with Simona "Alice in Wonderland". We have also released a new collaboration with "Soyuzmultfilm". Besides, we have carried out an important project: the first online fashion show for children.
Despite the crisis, our production facilities are continuously running. We save the jobs for the employees. To date, new autumn and winter collections have been produced in all sizes from newborns to adult sizes L and XL.
We have become even more steeled in battle. We once again have made sure that our brand is really powerful.