Expocentre opened the 17th International Exhibition Mir Detstva' 2011 and the 7th International Exhibition CJF-Child and Junior Fashion'2011.Autumn
28 / 09 / 2011
On September 27 Expocentre opened the 17th International Exhibition Mir Detstva' 2011 and the 7th International Exhibition CJF-Child and Junior Fashion'2011.Autumn.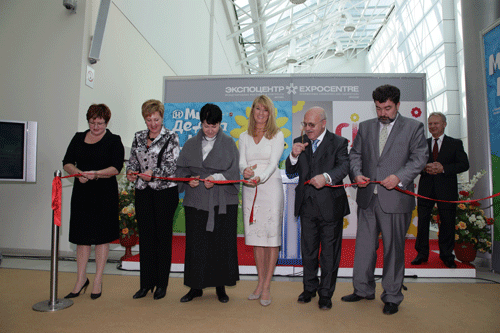 According to participants and experts of the industry, these exhibitions have become a real tool for promoting goods and services, creating in Russia a civilized market of safe goods and services for children. The exhibitions are officially supported by the Ministry of Industry and Trade of the Russian Federation, Public Chamber of Russia, Moscow City Government and held under the auspices of the Chamber of Commerce and Industry of the Russian Federation.
«This year the exhibitors' number has grown at almost 125 companies. That is good progress, considering the crisis time we are through», noted Expocentre Deputy General Director Mikhail P.Tolkachev welcoming the exhibitors at the opening ceremony. Today Expocentre pavilions host over 700 companies from 31 countries.
Svetlana S. Zhurova – the Russian Federation Federal Assembly State Duma Deputy Chairman, a member of the RF FA State Duma's Committee on Family, Women and Children Affairs – addressed the exhibition participants. Mrs. Zhurova as well mentioned the exhibition progress- in the part of its organization and the participants' list which keeps growing from year to year.
The Russian Federation CCI Vice-President Georgiy G. Petrov paid attention to a qualitative component of the exhibitions' growth. The UFI and RUEF logos awarded to the exhibitions confirm the exhibitions to have gained recognition by all engaged in the exhibition industry.
The CCI Vice-President expressed his gratitude to participants of charity action Our Children's Home, held within Exhibition Mir Detstva'2011 by the RF CCI Charity Fund for supporting homeless children and as well to the governor of the Kirov region for supporting collective participation of regional manufacturers in the exhibition.
The exhibitions offers opportunities for active interaction of business, government and public. The Ministry of Industry and Trade of the Russian Federation considers Mir Detstva'2011 and CJF-Child and Junior Fashion'2011. Autumn as a platform to settle major national issues. On the exhibition's first day there was held a round table devoted to measures of state policy for promoting domestic light industrial goods. The round table was headed by the Deputy Director of the Wood and Light Industry Department of Ministry of Industry and Trade of the Russian Federation Oleg V.Kascheev.
When addressing the audience Deputy Head of the Department of Family and Youth Policy of the Moscow city Yulia V. Grimalskaya; Head of the Russian Public Chamber Working Group on developing social standards and social protection system, a member of the Priority National Projects Realization and Demographic Policy Council, Alexandra V. Ochirova; President of the Association of the Children's Goods Industry Antonina V. Tsytsulina; and President of the Moscow Centre for the Support of Entrepreneurship Dmitriy A. Knyazev spoke about social responsibility of the state and business in such important spheres as manufacturing goods for children, children's education and development.