Fantazeri-Kids, Natalia Nikitina: We Get the Kids Approval Prior to Making Collections
Fantazeri-Kids has a profound expertise in children's clothes and in the preferences of junior customers. They continuously prove it and demonstrate it at CJF. Children's Catwalk Project. We interviewed Natalia Nikitina, Fantazeri-Kids St. Petersburg factory General Director, and discovered some peculiarities about their collections and their development approach.
– Natalia, would you please tell us what products have you brought to the exhibition and presented in the Children's Catwalk Project?
– There are two main lines in our collection: elegant clothes and home clothes. We position home clothes as a gift variant, it's decorated with sparkling crystals, lacework, expensive adornments. This makes it a good alternative present for a child who you are visiting; you can bring as a gift not another doll or a car, but homely and warm clothes thus demonstrating your love and care.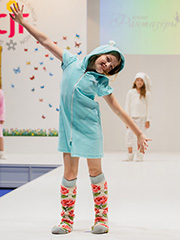 – And you pack these clothes accordingly, don't you?
– Yes, today we offer silver decorated branded bags with handles, smooth by touch. And very soon we'll offer individual gift boxes with small transparent windows.
– What is your holiday or elegant collection specific feature?
– In the elegant line of our collection, the main accent is on cocktail dresses. These are dresses that one can put on for a formal visit, for visiting a theater, or a restaurant. We almost do not make puffy dresses, so called "party-party". And we use only natural garments.
We sew at our own factory in St Petersburg and at our outsourced contractors. Our clothes are of the highest quality, we have almost no competitors in quality in the middle price segment.
As for decoration of our clothing, we use Swarovski crystals and pearls; we use some even in our school collection. They do not add much to the price, but the sales effect is evident.
– How do you manage to catch up with the kids' preferences and understand what they will like?
– You see, we test all the product samples on children, both on our own and professional models, and ask for their opinion. If they do not like something when trying the clothes on, we make the necessary corrections or even withdraw the item from the collection. That means all the products presented in our collections have children's approval. We even list the names of our consultants called "kids: experts & inspectors"in our catalogue.
– What age are your targeted customers?
– Our size range is for 98 to 164-170 cm height. Such articles will suit not only juniors but also some adults. To tell you the truth, we wear our products ourselves. For example, on the exhibition opening day we were wearing the dresses presented at our exhibition booth. My daughter is 23, and she has many Fantazeri® cocktail dresses in her wardrobe. She even went to her university exams in these dresses. One can be sure it's almost impossible to meet someone wearing the same dress. So it often happens that a mother buys a small size dress for her daughter and a large size one for herself; although we didn't plan to start this Mini Me line, it started by itself.
– What advantages does the Children's Catwalk Project offer your company?
– We have already participated in this Project several times, and it brings us additional advertising opportunities, such as announcements at the exhibition, our logo publishing, and, of course, the catwalk shows. This season we present new models of holiday dresses in new color palette including pink which we haven't used before in our collections. You can imagine, of course, with which colors St Petersburg is synonymous: turquoise, azure, blue, shades of grey… But after watching a report from Pitti Bimbo Exhibition, I was inspired with those caramel collections, and I decided to start my own collection which I named similarly – Marshmallow.