School Uniform Standards to be Discussed at Roundtable Conference
The Roundtable Conference on School Uniform Production Results and Prospects will be held on the 20th of February. The Conference is organized by the Ministry of Industry and Trade and Expocentre AO within the CJF event program.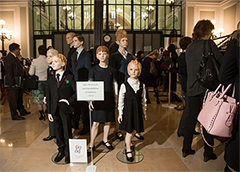 Representatives of the ministry and manufacturers of school uniforms will take part in the discussions. The conference will be held in a form of a dialogue, which will allow uncovering the most important issues.
Some leading manufacturers are invited to participate in the event such as Tver Garment Factory, Aivengo, PTK Peremena, Tulski Trikotazh, Pskov Garment Factory Slavyanka, Karamelli, Hermione-Modnitsa, etc.