Nufocey Batch®: a brand to be remembered
This exhibition booth with an unusual name Nufocey Batch remained in the memory of many visitors with its bright color prints and original tailoring. The brand is a newcomer to CJF, although many customers remembered it; and it happened, in many aspects, because of the brand presentation which included a fairy tale about the history of the brand creation, and a book dedicated to the brand name, and nice brand souvenirs.
Nufocey Batch® is new to the children's fashion market. The company presented their casual collection at the exhibition. Olga Khmel, the company founder, says,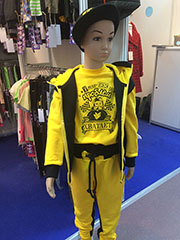 "The idea of this collection came from ordinary children life. This is our story about a little man whose name is Nufocey Batch, and who lives in every child's pocket, and who helps him or her handle all the difficulties they face in their lives. There was one boy some time ago who fantasized this little man. We caught up this idea and developed it. A well-known writer Nikolay Kolychev wrote a philosophic fairy tale about it. Thus, we want to give our children good manners, to teach them to be kind. We created our fashion collection for boys and girls based on this story.
"All the pictures that we use are on purpose; all of them reflect the philosophy of the book: a person's character, his habits, and finally, his life depends on what clothes he chooses. The book was presented for the competition for a prize named The Best Book for Children and Youth.
"We have been working for two years on our collection. All the images and quotations were taken from ordinary children's lives. We are glad that the exhibition visitors appreciated our pajamas and T-shirts, which are pleasing both mothers and children with phrases like "I went searching for sweet dreams", or "I have enough problems without you!"
"We have a contract based manufacturing; all the textile sheets which we use have necessary certificates. We tended to create the kind of style suitable for all situations. And, according to the first customers' reaction, we have succeeded in doing it!"