Konik brought Moulin Roty® toys to Russia
Konik has become an official representative of Moulin Roty®, a French brand of toys, in the Russian market.
Moulin Roty® offers a fine French design, many topical lineups, an exceptional quality, elegance and uniqueness. Konik presents a new enlarged collection of toys in Russia. The product range of the collection consists of more than 17 topical lineups combining plush toys, various game sets, exciting game accessories and charming details for decorating children's rooms.
Moulin Roty® was founded in 1972 in small town named Nort-sur-Erdre. For more than 45 years already the brand has presented beauty and comfort for children all around the world. In a remarkable manner Moulin Roty® combines the classic style which attracts people around the world with its pastel shades and incredible softness of the fabrics, with a modern design using bright colors and a large number of bold elements and funny characters.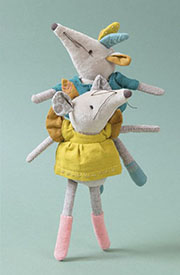 A special French accent can be felt in every item: the toys are designed in France by the hands of gifted designers and manufactured using the best French fabrics and materials.
Every year Moulin Roty® enlarges its product range adding new items to existing lineups and introducing new ones. Some legend is always behind every new lineup of collections. It can be Olga, a charming Goose Lady offering children to take a journey together; girls can imagine themselves being Parisians if they choose a doll from Les Parissiennes new collection; mothers will favor the choice of classic pastel-shaded toys of La Grande Famille series; boys will like the botanical sets.
Moulin Roty® Doll Theater, an absolute international best seller, has also been introduced to the Russian market. One can choose actors for the theater from a large variety of plush expressive actors-beasties. The children will cultivate imagination, creative involvement and a passion for beauty
The collection has a variety of game sets which are convenient to take along during summer journeys: doctor's bag, or carpenter's set, or chef's set.
Moulin Roty® toys are so expressive that can be pleasant and exciting gifts for both children and adults.
Gift boxes containing charming plush characters are perfect gifts for girls of any age.