A Union of McDonald's and Rubik's Cube
Rubik's®, a toy brand presented in Russia by Play Lab, has signed a contract with McDonald's, a fast food chain covering the territory of Russia, Europe, the USA and Africa.
Within the framework of the new contract, Rubik's® toys will be included into Happy Meals for children. During the sales campaign, the carton box of the Happy Meal will be formed as the legendary Rubik's Cube, and specially designed Rubik's® puzzles inside children's meal set will attract attention of children to clever learning games.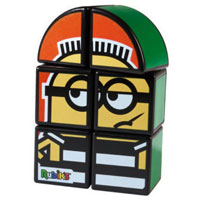 The joint campaign of Rubik's® and McDonald's® started in France in July, and it will enter other regions step by step in August-November. A French advertisement clip is now streaming on Happy Meal France Channel.
The McDonald's visitors will be offered 12 variants of Rubik's puzzles in the format of 2X2X2, 3X2X1 in different design versions. Among a variety of forms and colors the licensed characters will be presented from the Illumination popular animation studio, a branch of Universal Studios: Despicable Me, The Secret Life of Pets, etc.
A massive advertising campaign of the new Happy Meal is planned on TV and online, based on impressive marketing resources of McDonald's. There'll also be video instructions on assembly of the puzzles; and they will be available on McDonald's channel and media pages and in McDonald's Happy Studio application.