Model Makers Forum will demonstrate the best pieces of work
The 12th Russian Model Makers Forum will open on the 27th of September at the Mir Detstva exhibition which will traditionally gather specialists from various regions of our country. Every year at this annual event the results are summed up and prospects for the industry further development are identified.
13.00-16.00
Pavilion No.2, Seminar Hall 5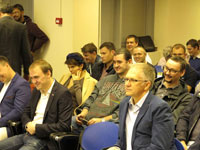 Heads of the major specialized companies such as ICM, ICM Holding, M-Hobby, Zeughaus Publishing House, Zvezda, Modelist, and others will be the Forum moderators. The Forum participants will discuss the main development trends of the industry, popularization of model making with the help of different military-patriotic events both on the federal and regional levels, promotion of this hobby via educational and entertainment centers, and other educational establishments. The contests of model makers will be held at the Forum, the best pieces of work will be demonstrated at major Russian museums.
Every year since 2007 the Forum has brought together major Russian and foreign manufacturers of products for model making, representatives of government agencies concerned, youth organizations and heads of state museums. The model making hobby develops creativity of young people based on historical knowledge, involves children into collective games, and offers a kind of leisure activity alternative to computer games addiction.