Children's Catwalk
Little Lady: prepared for school
In the new school season 2018/2019 Little Lady turned to the image of Russian high school girls (the end of 19th – beginning of the 20th centuries) inspired by their classical school uniforms. The designers did their best to feature the spirit of classical education of noble families: nobility and elegance, the sense of style and good manners of young high school girls complying with aesthetics of the brand.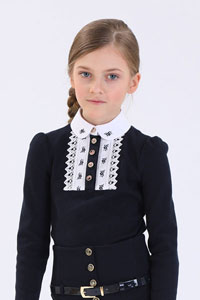 This year Little Lady offers classical elegant blouses of white and milky colors made of soft acetate silk. Various kinds of fixings and insertings of textile flowers and flower buds, brooches, sparkles and lacework will adorn the image of a young school girl. There are loose blouses for stocky built, and there are tight fit ones for slim girls.
The color palette of casual blouses became even wider. Now, besides white, milky, pink, blue and spotted blouses, there are and burgundy and grey blouses with light colored trimmings. As always, high quality materials are used in production: blouse cotton with elastane and knitted fabrics (kashkorse and jersey structured) and also lacework fabrics. Various trimmings and decorations will satisfy the most demanding customers. All in all there are more than 70 models presented from romantic up to classical and business style.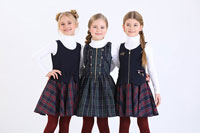 All the dresses of the brand are extraordinarily elegant and very functional at the same time. The image is always tucked-up, maidenly and slim. Little Lady presented nine models to suit all tastes. Underskirts can be added to make the look really splendid.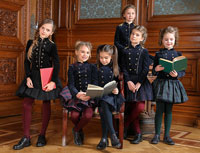 More than 30 models of suiting viscose, velvet and checkered fabrics are presented in the model range in all basic school uniform colors. There are classical models, and there are edgy fashions with bouffant skirts, pleat and, opposite, slim fit ones; with basques, adjustable straps, and knitted sides; with variety of garment accessories; there are conservative style dresses, and models for those who prefer freedom in design.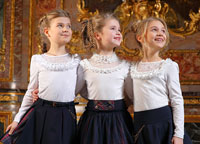 Checkered fabrics which returned last year play an important role in the collection. This season, the company offers four basic color compositions presented in tunics, vests, skirts and even trousers and dresses. The checkered fabrics perfectly match basic models of school uniform and allow create a wide variety of different ensembles.
Besides, there are around 15 jackets, various vests, more than 40 variants of skirts and trousers and all the necessary accessories in this collection.