Panini's secret of success: passion for football and a note of surprise.
Smart is a long standing exhibitor of the Mir Detstva exhibition and a distributor of the world leading manufacturers such as HTI, Educa, Panini and many others. The latest hit of the company is collector's stickers from Panini licensed for FIFA World Cup Russia 2018, which became inherent symbols of the World Cup. We talked about the success of these products and of other brands of Smart with Aleksei Bachurin, Smart General Director, and Eleonora Belopukhova, Panini Rus Publishing House Marketing Director.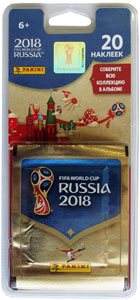 Smart was involved into the World Cup by presenting a collection of stickers and albums for their storage named FIFA World Cup Russia 2018 produced by Panini, an Italian company, which you represent in Russia as their distributor. Can you already evaluate the demand for these products and the sales results?
Aleksei: The results exceeded our forecasts two times approximately. There are several reasons for this. Firstly, our national football team was more than successful at this World Cup, and this, of course, gave a positive impact on the sales results.
Secondly, Panini team has carried out a very strong advertising support of this collection in Russia this year.
Thirdly, our sales department persistently prepared for sales of this collection six months before it was launched. They actively looked for new customers and new sales channels not only in the traditional toy market, but also in neighboring segments. All this gave positive results. Moreover, after the World Cup is over, the sales continue: children and their parents buy stickers every day trying to fill the albums completely.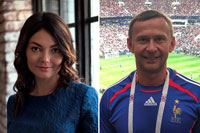 What was the marketing support to the sales of this collection?
Eleonora: The sales of Panini stickers FIFA World Cup Russia 2018® started in April, long before the games started, and before a high demand was formed for the topical licensed products. An unprecedented promotion campaign was carried out to promote the collection. A large scale flight on TV channels for children and in the time-slots for children (Karusel, Disney, CTC, 2X2 TV channels) became a dominant note in the activity.
As a classic marketing tool for our category we used free hand-outs of our products to more than 350 thousand children in all 11 cities where the matches were to be played. The retail equipment decorated with the branded stickers of the World Cup was placed in all the shops of Magnit, O'Key, Auchan and other retail chains.
What we are especially proud of is our joint campaign with McDonald's where children receive as a gift an album and a package of rare stickers when buying a Happy Meal.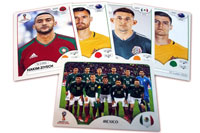 I remember Panini albums from my childhood; years after new generations of children are fond of them. During the FIFA World Cup the media's attention was attracted by a group of fans from Columbia who came to the stadium wearing costumes of Panini stickers. In your opinion, how has the brand been managing to keep the peak of popularity over so many years all around the world?
Eleonora: Football has been the most popular and favorite sports around the world for a number of decades already. It is no wonder that the first Panini collection stickers were dedicated to the Italian football players. The number of collectors in this kind of sports constantly grows and accounts for millions. Not too many fans can attend the stadiums, and the stickers can help anyone to feel a part of the world of sports. Passion for football and a note of surprise when opening a new package after long waiting for a sticker with a famous sportsman – these are two components of the long time popularity of Panini collector's stickers.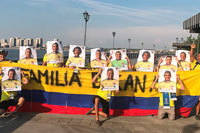 Manufacturing of stickers, as far as I can imagine, is not the most complicated process compared to many other products for children. Although we still can't see any competitor which can be compared to Panini. How can you explain this?
Eleonora: Technically, to manufacture a sheet of regular stickers is easy, indeed. The peculiarity about Panini collector's stickers is Fifmatic patented system of preparing mixes of stickers in the packages, where the quantity of new and repeated images on the stickers is correctly balanced. Such machines are installed only in Italy and Brazil.
Besides the technological details, it is necessary to take into account the whole process of preparing the collection from purchasing a license up to the delivery to a retail outlet.
Panini Group is a license-holder of all major international level football associations and of local football unions. A special license department is responsible for this work.
Sports editorial office is one more important team responsible for the product quality. They gather football statistics on sportsmen and teams from all over the world. One part of the data is reflected in the albums for stickers, the other one is published in the annual almanacs for professional sports journalists.
In order to place a package of Panini stickers to a retail outlet, a well-coordinated work is required from the company specialists and regional distribution partners in 120 countries of the world.
Panini stickers mean patented manufacturing, football expertise, exclusive license contracts and a well-developed distribution. These competencies provide the leadership of Panini group in the industry.
FIFA World Cup Russia 2018 is already over. What new collections from Panini will you offer to your customers?
Eleonora: Our home FIFA World Cup Russia 2018® became a real festival for all the fans. We are happy that our collection became a part of this story. No matter that all the games are over, and the team of France became the winner, the sales of Panini stickers go on. In the nearest days we'll release a collection of stickers with renewed composition of teams. For example, the stickers of the new album now include Artem Dzyuba, the main Russian hero of this World Cup.
As regards other plans of our company, coming soon there'll be the annual collection of stickers FIFA365 about the best football clubs of the planet, the new hockey season of KHL 2018-2019 and a number of issues dedicated to major movie releases of the autumn of 2018: The Fantastic Beasts: The Crimes of Grindelwald and Ralph Breaks the Internet.
Aleksei, Panini is not the only strong brand in the Smart portfolio. What other success stories can you share?
Aleksei: Firstly, we have signed a license contract with the Spartak Moscow football club and we are starting to sell goods with their brand mark. We hope the increased interest towards football in our country after the World Cup will also continue on the club level.
Speaking about our success, I'd like to mention one more field. Lately, the consolidated sales have occupied a large portion of our sales. It means that our company is making consolidated sales of the goods from the side suppliers to the federal retail chains, not only selling our own imported goods. The large federal retailers are not interested in signing contracts with every new customer, a supplier or a manufacturer, especially if they have a small product range, and especially if a buyer from a federal retailer liked just a few articles from maybe even a large product range. For them it is much easier and more profitable to buy these goods via an existing customer with whom they already have a general contract. And here we are to help. We are quick in negotiating with the both parties and the goods can be in stores already within several days. So if any importers or manufacturers, who have been dreaming to supply their goods to a large federal retail chain, are now reading this text, they can contact us, and we'll offer them our assistance.
What new products will you display at your exhibition stand at the Mir Detstva exhibition?
Aleksei: HTI from the UK is our traditional brand which has already become a classic one for us. In the second half of the year we'll bring a lot of new toys from all the line-ups produced by this brand, to be more exact, new kitchens, tracks, parking lots, garages, home electronics, etc. There'll also be a lot of licensed products by HTI: My Little Pony, Paw Patrol, etc.
I must also say some words about Educa, a Spanish company. They have prepared a lot of new products for the second half of the year including a limited series of 22 puzzles and several new bestseller products – electric trivia games.
All these new products will be displayed at our stand at Mir Detstva, please visit our exhibition stand in Pavilion No.2, Hall 2, Stand 22F50.
Interview by Oksana Pikkel