APERO combines warmth of Siberia and elegance of France
There have been many start-ups presented this year in Forum Pavilion; the newcomers to our exhibition who introduced unusual interesting products. APERO, a Novosibirsk company, is one of them.
It is a family owned workhouse created by two Annas, colleagues and friends; one of them lives in Novosibirsk, the other one in France. The name APERO comes from the name of Creative Director of the company, Anna Pero, who continued family business having pulled together the people who were close to each other, the kindred spirits; each of them is a professional in his or her field.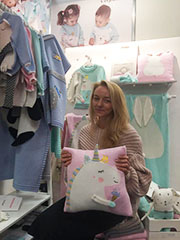 Anna has worked as an interior designer and has dreamt to put together her profession and the family knitting production, to make Siberia, her motherland, closer to Paris, which became her second home long time ago. After some time, one more Anna came: Anna Boldakova, her friend from their primary school, and a professional architect joined her business. Thus, a family business turned into APERO Company. Attention to details, the ability to enjoy life and create beauty and comfort is the philosophy of the company.
"Our brand is three years old," Anna Boldakova tells. "We have our own online shop, and we have got a pool of wholesale partners. We took part in Mir Detstva for the first time and met new partners here. Our main line-up has all the things concerning children's sleep and various activities. This year we have designed a collection of children sweaters. All our items have some sweet details; some elements that create a special mood, comfort and tenderness.
Our products are knitted at our own workshop in Siberia. We select materials ourselves, we mature technologies, and constantly improve our work. Our main value is quality and detailed finishing of every element.