Elena Batarshina: proud of brain training products
Phoenix Plus participating in the exhibition for the fourth time manufactures products under brand names Phoenix+, Escalada, and Phoenix-Art. The exclusive products of their own design are also a part of their product range. We asked Elena Batarshina, Sales Director of the company, to tell more about new products presented by the company at the exhibition.
Elena, how do you evaluate the effect of your participation in Mir Detstva?
"Phoenix Plus has already participated in Mir Detstva four times. The trade show has always been successful and fruitful for us. Traditionally, we demonstrate our school collection here and a line-up of brain training items which we are actively promoting now. Important meetings with our long term clients take place at the exhibition: we discuss the results of the past school season, success of different product categories, and show our new products to them."
Would you please tell us more about your brain training products?
"We are especially proud of this part of our collection. Every series is designed with the help of leading methodologists in child psychology and behavioral factors. There are two sets: Letters and Numbers and Figures. The cursive workbooks and assignments will help mothers prepare children's hands for writing and teach them how to count and write. The cards are very nice and durable since they are made of thick board, and designed for multiple use. The felt-pen ink is easy to erase, and the studies can be repeated.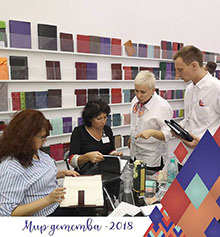 "We offer one more learning series named Coloring – Poster to develop creative potential of children. This instrument is for children from the age of 3. This large-scale coloring poster can be hung on the wall of a child's room, and you can offer the child to become a painter. The advantage of this coloring book is that the child can paint not only alone, but with his friends, too."
Elena, would you please tell about your unusual coloring books. I have heard they are especially popular.
"Yes, it's true. They are very popular. For example, we have a series of coloring books named Paint Brush, Water and Miracles which is made with an element of "magic" which children like very much. You won't need paints, pencils or felt-pens for this coloring book. You'll need only paint brush and water. The next series is named Magical Water Coloring Book. This is a set of four cards and one paint brush. The cards in the set are made of coated board with raised figures which will help turn them into gift cards or decorate home interior with them."
What can you offer for the elder children?
"If the children are preparing for school, our Find and Count series will be of good help to them. This series is a remarkable exercise instrument for counting, writing, concentration, and fine motor skills. We have also produced a series of picture books named Super Detectives for the children from the age of 6. Tangled tales and mysterious adventures will help the child feel like a real detective. There are fascinating brain-teasers, secret codes, labyrinths, etc."
You have a cozy New Year corner at your stand. What products are presented there?
"We have always been preparing in advance for this holiday producing series of New Year educational products. Today, the series includes 11 items. The first one, of course, is the Letter to Santa Claus set which will help create an inimitable atmosphere of magic. The New Year Postcards with Stickers coloring book will help continue family preparation for New Year. Children will create their first and most touching gifts by themselves for their family members.
"To keep the New Year feelings, we prepared a picture book with stencils named Wonderful New Year for little kids. This joyful book with merry New Year stories is suitable for the children from the age of 3. With the help of stencils a child will be able to finish the pictures or to make his own.
"We are constantly in search of new development ideas which will help the company grow and go ahead."