Unona brings happiness to young princesses
Unona, under its own brand name Unana D'art®, has been creating elegant dresses for girls for all party occasions over 20 years. They actually know everything about elegant dresses for girls at the Unona factory.
Unona D'art® presents a new collection twice a year. Most of the dresses are designed for the New Year holidays. The main goal of the company is to convey the feeling of happiness of being a princess over to the young buyers. Here all the details are important: the ideal proportions of the cut, the length, the color composition, and many other secrets of Unona designers.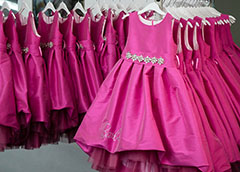 The wedding dresses made by the factory in the beginning of its activities became the basis for today's elegant dresses for girls. Modern equipment was installed at the Unona factory recently. Very experienced technical engineers and designers work at the company and sometimes they create real miracles. The production system is a combination of the classic Soviet school, its knowledge and discipline, with the modern flexible approach which allows a frequent model change and a simultaneous manufacturing of several different items. Leading Russian brands are placing their orders of elegant dresses at the Unona factory. Thus, they obtain guaranteed quality of such a complex product range.