Alena takes care of infants
Alena, a factory manufacturing clothes for children from Ulyanovsk, has produced a new lineup of clothes for new born babies and little children of up to 1 year of age. The clothes for new born babies are the main specialization of their production. Therefore the quality of these goods has been proved by years of experience and many certificates.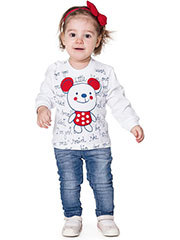 All the clothes for new born boys and girls are made of natural materials; safe and durable seams will not harm the skin of even most active infants.
Only the highest quality fabrics (100% cotton) are used in manufacturing, fabrics with additions of elastane and lycra to make clothes more durable. The items can stand many hours of games and frequent machine washing. Alongside with that, the designers are following all fashion trends to be able to make fashionable products at affordable prices.
Alena offers a large product range for all ages of children: from new born babies to teenagers. It is quite convenient for families with many children: all the necessary clothes can be purchased at one store. Many items match each other for the customers to be able to select suitable clothes combinations for their children.
Pavilion No.1, Stand 1E65.