Arctic Goose® is preparing for next winter
Arctic Goose®, a brand of down clothes, will present a new collection of clothing for children this spring. The clothing is made of premium down from their own goose farm. Arctic Goose®, a Russian company, is a new generation enterprise manufacturing premium outerwear clothing for boys and girls.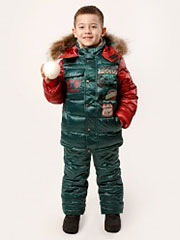 Snowsuits, parkas, coats, overcoats, trousers, and outerwear combinations – the company produces all the necessary things for little ones. Children will feel comfortable and warm in any weather conditions. The main feature of the down clothes of Arctic Goose® is premium quality goose down use for thermal insulation. Natural qualities and perfect quality of the down collected at their own goose farm make children feel comfortable in temperatures below 55 degrees C. The goose down ensures a very good thermal insulation and is breathable. The goose down inside the clothes is packed in special containers which prevent it from compression and rumpling, help it keep its qualities and prevent the down to penetrate the shell and the lining of the clothes.
Besides, all the models of this collection have original décor, trimming, and accessories designed by the company's own design bureau individually for every item.
Pavilion No.1, Stand 1B07