Combination of Italian design and Russian functionality
Alessandro Borelli®, an Italian brand, will be one of the participants of CJF – Child and Junior Fashion exhibition in the coming season. The brand will present several annual collections: winter outerwear, school line-up, and footwear collection.
The Alessandro Borelli® designers have managed to fully adapt their collections to the needs of Russian customers having kept the true Italian character and style at the same time. This is the brand's secret of success.
The luxurious down coats and snowsuits allow going out in temperatures below 30C degrees.
Due to the combination of natural materials, the children will have no worries about wind and sleet. Such winter collections are notable for interesting silhouettes and a wide color range. The wide product ranges of down coats and overcoats, snowsuits and bib overalls are of great demand because of their perfect price to quality ratio.
The inter-season clothing line-up presents elegant and sensible lighter jackets, coats, overcoats, gilets, trousers, and bib overalls. The clothing provides a perfect protection from wind, foul weather, and frequent temperature changes. The Italian style of all the models with no exception, a wide color palette, and a supreme quality have made the inter-season line-up of clothes from Borelli one of the favorites.
The school uniform from Alessandro Borelli is characterised by finesse of classic models, noble colors selection complying with dress-code of any school, an ideal tailoring, and a perfect quality of natural fabrics. A wide product range of the items which can perfectly match each other is added on by stylish shirts, blouses, and ties.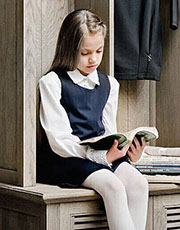 The designers of Alessandro Borelli know perfectly well what children like, what they want to wear, and what kind of fashion they prefer.
The Alessandro Borelli brand will present several annual collections at the CJF – Child and Junior Fashion exhibition: winter outerwear, school line-up, and footwear collection. See Pavilion No.3, Stand 3E20.
The CJF Children's Catwalk 2019 Spring Project will take place on February 25-27, 2019 (12:00, 14:00) at Pavilion No.3. You'll see colorful shows of the children's clothing collections from such companies as The Young Dreamers, Vester, Alessandro Borelli, Little Lady, and others.