Levi's Kids new footwear collection: style, fashion, and comfort!
Levi's Kids will be presenting their new collection at the exhibition for the second time. XXI Century Shoes Company has been a footwear wholesaler for more than 20 years. At present the company is showing a good dynamics in business development and the latest trends in the footwear fashion are fully presented in their product range.
Maria Ilchenko speaks about the plans of the company for the coming year and about the new collection.
– What is your company specialising in? What are your principles to select the suppliers?
Our company is distributing shoes of Levi's Kids, Airbox, Lulu. We have one main criterion in selection of our suppliers and we have not changed it for 20 years: the products have to comply with the quality standards at a middle class price. The footwear for children and juniors from Levi's, the world famous jeans brand, complies with this criterion, therefore we actively promote it.
– You have been successfully developing your dealers' network. Would you please tell in more detail, in what cities you have already opened shops, and tell us about your plans for the coming year?
– The main focus area of our work is to establish a regional dealer network based on franchise. At present, 6 shops have been opened under XXI Century Shoes brand in Moscow and St Petersburg. We have serious plans for the coming year: we are planning to open not less than 10 stores.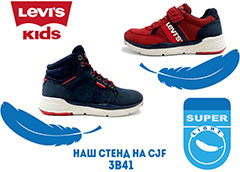 – Your first shops had an original design concept: dark-blue color with cold white lighting. Have you kept this design, or have you changed it?
– We are changing, of course: things which were popular 20 years ago are not attractive anymore. A different style is popular today. Therefore, we have changed the design of our shops, it became more classic. The details of this design do not deflect attention away from the products; they only help showing the advantages of goods.
– What have you brought to the exhibition? What are the advantages of your new collection?
– We have brought a new collection of Levi's Kids for autumn-winter 2019/2020 to CJF-Child and Junior Fashion 2019 Spring exhibition. We are calling for the attention of the exhibition visitors: natural fur winter boots will be presented for the first time at our stand, and they will be presented only for the Russian market.
The main trends of the new collection:
Sneakers and training shoes with Super Light soles and breathable insoles.
Mullet Junior Sneakers with no laces (elastic laces) with a pull strap to put on quickly without unlacing.
Thick sole fashionable sneakers.
Shoes and boots with big-lettered logos, very popular among juniors, will be presented for the first time.
Dry line waterproof boots and sneakers.
For the first time for the Russian market we'll present six models of natural fur winter boots.
February 25, 14:40–15:00
Presentation Area
Presentation of LEVI'S KIDS footwear for children and juniors for autumn-winter 2019/2020 (made under the license of Levi Strauss & Co., a famous jeans brand)