Stilyag presented colorful spring knitwear
Stilyag® clothes for children produced in Ivanovo have taken part in the CJF – Child and Junior Fashion exhibition for the first time. The company operates in the segment of reasonably priced nice clothes: knitwear for teenagers, clothes for school, sports clothes, and holiday clothes.
Aleksey Korolev, the company head, presenting the collections, underlined fine quality of fabrics,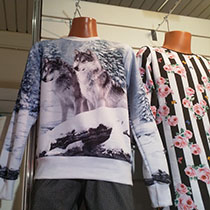 "Our fabrics are interlock knit – ELS, 40/1. The experts will understand at once that this is the best quality. We apply drawing using a reactive method. Due to the above characteristics, the garments do not fade, do not dye, do not stretch out, and stay soft. We use silkscreen printing – one of the best quality methods of drawing application. Our manufacturing equipment is modern and new, our sewing conforms to GOST: closing seams are flat and strong, fit is accurate, and garments' sizes are exact. We use expensive reliable accessories – glass buttons and snaps. The size range is from 110 to 158, and the sports tights are up to 170.
"This year we'd like to attract a special attention of our customers to the collection prepared by Irina Korneva, a well-known designer. It is a new collection of casual clothes with interesting prints. All her ideas were put into life by our experienced seamstresses. Our factory applies quality control over the whole production process."