Denis Fomin: Conference on Fashion Magazin Fashion Platform brought together buyers and producers from 20 regions
The conference on Effective Online Sales Technologies for Clothes and Footwear for Children organised by the Fashion Magazin online platform was held within the supporting program of the exhibition. The leading experts of the industry, buyers, producers, and distributors of clothes and footwear for children took part in the conference. The three competitions were held on the same day in the following nominations: the Best Website for Buyers, the Best Instagram Account, and the Best Online Store for Customer. Denis Fomin, the co-founder of the multi-channel B2B Fashion Magazin Fashion Platform commented on the results of this action-packed day.
"The Fashion Magazin multi-channel platform has become a partner of the CJF – Child and Junior Fashion exhibition for the first time. We provide a direct connection between buyers and brands online and an opportunity for buyers to place orders 24 hours a day in any region.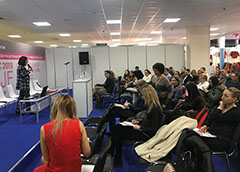 "We have contacted more than 700 brands and discovered that, unfortunately, the majority of them presented a poor content for wholesale buyers. Therefore, we have sat a target to teach our partners to present a decent content alongside with manufacturing of products. A collection is manufactured, so it is necessary to prepare a photo session for Instagram, description of the product and brand, and contract terms for partners. This should be done in order to provide the best preparation of the brand to be placed in magazines, at exhibitions, in Instagram, on the web. In most cases, the presentation of the brand's identity, its DNA, and delivery terms is done only in show rooms at personal business meetings with managers. But what to do with the customers who are interested but can't come in person for certain reasons? The number of such customers is growing; people are saving time and money and want to obtain the fullest information online. Today, in our opinion, the sales model of product-money-product is changing to content-money-content, and the content is turning into the main sales motivation tool. At the conference we explained how to make it in a quality manner and what instruments were the most effective those days.
"The competitions which we held at the exhibition were very important, and the colleagues now understand that their results are thoroughly evaluated. The winners were the following:
The Best Website for Buyer: Ariadna-96 Company, G'n'K brand;
The Best Online Store for Customer: Alessandro Borelli brand;
The Best Working Instagram Account: Mia Company brand.
"The competition was also important for the internal audit of the companies, and it provided a chance to look at your business from the outside, and to understand what were the tools used by the winner companies. Taking into account that such competitions took place for the first time, we received a good activity and follow up. We are going to hold the competitions again next year."