Olga Kabargina, G'n'K®: following best trend bureaus' forecasts
Ariadna 96 presenting G'n'K®, their own brand of outerwear clothing for children, is keen not only on production, but also on promotion: the manufacturer has been awarded by Fashion Magazin Platform for the best website for the buyers. Olga Kabargina, Business Development Director of the company, told us about a new collection of G'n'K® in detail.
Olga, would you please tell us about the new collection of G'n'K®?
Our company has been manufacturing outerwear clothes for children for more than 20 years. We are specialising in this segment, and we present clothing collections with natural down and synthetic fillers.
The new collection is completely different from all the previous ones. The CJF exhibition and our customers' response at our stand have confirmed it. The new collection features a wide assortment of overcoats (13 models): this is one of the most actively developing product groups, and it has been continuously demonstrating very good sales results over several years running.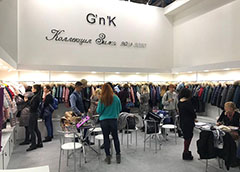 What fashion trends are reflected in this collection?
G'n'K® follows the professional trend bureau forecasts when designing new collections. We have been cooperating effectively for a long time with WGSN, a British agency, one of the world leaders in forecasting of fashion trends.
The experts consider vinyl and metalised fabrics application one of the main trends for the coming season. Regarding details: there will be holographic effects and a lot of elements with logos.
A large number of pockets became a special feature in our collection for boys. This year we also have completely changed the design format of transformable overalls. These became more user friendly for little children in the sense of nursing them and changing diapers.
Traditionally, we use a lot of crystals; we work with the Bohemian glass. Such details as sparkle crystal compositions, paillettes, colorful embroideries of pop-art style, and other elements are the golden thread of the collections for girls. Girls putting on our models always look like princesses.
Would you please tell us about the retail line of G'n'K®. As far as I know, you have renovated your online brand-shop celebrating its 5th anniversary.
Yes, our online shop has been refreshed. Last year, the website was renovated, and it became more comfortable for our retail customers. We are also active in our Instagram and other social media accounts where we tell our customers about special features of our products and share reviews of the customers who have already purchased our products.
How do you evaluate your participation in the CJF exhibition?
We are always enthusiastic about the exhibition; we would like to show the collections of the clothes that we manufacture and to get a response from visitors. From the very first hours after the start of the exhibition, we made sure that the new collection would succeed: 99% of the customers appreciated it very much. Having visited other stands, the customers return to us underlining the quality of the products of our brand. It happens because our collections have a look of their own and differ a lot from other brands.