BTK Group: not just clothes, our school uniform presents life style
BTK Group, a major holding in the textile industry of Russia, has participated in the CJF – Child and Junior Fashion exhibition for many years, but it has presented such a full and multifarious product range for the first time. The company specialises in manufacturing of high tech textile products, in design and production of service dress uniform and casual clothes. The school uniform collection demonstrated at CJF. Spring attracted great interest among the industry professionals. Rudolf Sakharov and Aleksandra Nurova, the company representatives, told about new products and plans of the company in detail.
Rudolf Sakharov,
"There are 13 factories in our powerful production base, situated in Russia, Belarus, and South Ossetia. We manufacture more than 5.5 million garment items annually. We have our own brands of men's clothing and leisurewear, and our own uniform style. School uniform is an important part of our large product portfolio. Therefore, we couldn't help participating in the winter edition of CJF – Child and Junior Fashion, where leading companies present the coming season collections."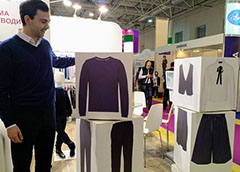 Aleksandra Nurova,
"We'd like to underline that school uniform from BTK Group is not just clothing, it's a life style, where education and character building are appreciated. It is a kind of clothes reflecting St Petersburg in its laconic and intellectual style. It was important for us to reflect this in our school uniform. The new basic collection is made of polyviscose, elastane, and wool mixture. These are the most comfortable and popular fabrics for school today. The items of this collection are decorated with interesting accessories, piping, and contrast color lining materials. For example, a classic grey jacket for boys has interesting details: the collar has contrast red piping and pearl-colored lining; and these additional elements make the jacket stylish and attractive.
"This year a line-up of shirts which we produce at our factories was added to our product range. These are classic shirts for boys of younger and teenage groups. We have elaborated our own textile fabric for our collection of polo shirts.
"We added polo-neck sweaters, sweat-shirts, and knitted fabric jackets for boys to the classic school uniform collection. The product range for girls is wider: jackets, tunics, dresses, skirts, and polo-neck sweaters made of classic and knitted fabrics. The knitted fabric now holds the top position in the school uniform production: it has perfect characteristics keeping the garments from creases and not constricting movements at the same time. We added Jacquards: dresses, skirts-tulips, and several models of trousers. I'd like to draw attention of the buyers: all our buttons, zippers, and other accessories are branded. I'd like to point out without any exaggeration that we have designed a very comfortable school uniform. It will serve the entire school year keeping both functionality and a good appearance."